RIP Herb Kelleher: The Southwest Airlines Giant Gave Us Many Best Practices. This One Is for the Ages
When asked to name their CEO, too many employees of too many organizations have to take time to answer. But when Herb Kelleher died last month, everyone inside and outside of Southwest Airlines noted his passing. Kelleher was justly mourned and celebrated by millions inside and outside the industry as a visionary CEO.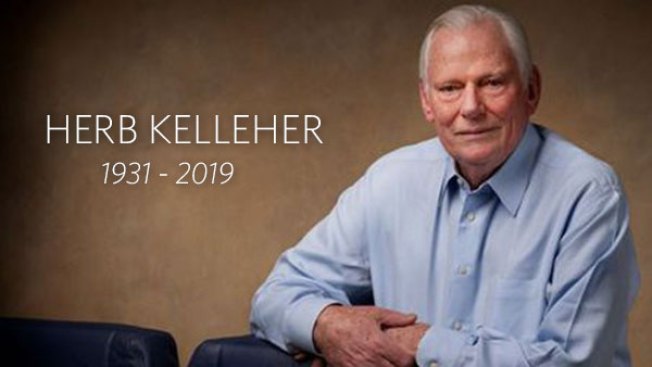 Southwest's bourbon-drinking, cigarette-smoking cofounder had not been CEO for the past ten years, but since Southwest has such low turnover, every employee felt they knew Herb personally. If they hadn't met him one-on-one, it wasn't for his lack of trying.
It was his leadership of the airline that revolutionized our flying habits. He is the one who replaced in-flight meals with peanuts — he had to cut spending to attract and keep passengers on cheap flights among Texas' major cities. He is better remembered for putting flight attendants in shorts, encouraging them to tell jokes and lead sing-alongs, and boarding planes himself to chat with attendants and customers.
Kelleher commanded his employees' affection and support, and Southwest continues to lead in most industry ranking indices and customer satisfaction surveys. His leadership embodied a list of skills that all deserve attention:
Lead with Vision
When Kelleher launched his earliest flights, he offered a bottle of Wild Turkey to customers willing to pay Southwest's slightly higher fare, effectively making himself the country's largest liquor distributor and putting Braniff airlines out of business. He knew he could reach a market with his innovative approach.
Jay Walker, the cofounder of Priceline.com, said of Kelleher, "He represented the ideal that said the upstart could make a better product by innovating in ways that just didn't seem in line the conventional wisdom … He didn't just do things differently, he made them work for the airline and the customer — and customers still love them by the millions — quite a feat"
Lead with Values: Kelleher believed that first, you keep employees happy, and second, you keep passengers happy. He created a unique culture in which its members grew in emotional connectedness with Herb, each other, and their customers. Framing the culture and providing the necessary psychological safety, he engineered a clear set of values.
These values drove the business's choice to favor efficiency over costly frills without losing customers. Kelleher insisted on everyone in Southwest doing the right thing. As he said, "If somebody makes a proposal, and it infringes on those values, you don't study it for two years. You just say, "No, we don't do that"
Lead with Heart: There are reasons the Southwest logo displays its heart. With almost sixty thousand employees, Herb Kelleher felt loved. As a show of their affection for him, they raised sixty thousand dollars to place a full-page ad on Boss's Day. It reads, "Thanks, Herb. For remembering every one of our names … For listening … For being a friend, not just a boss"
His employees confirmed Southwest's published commitment to working with a Servant's Heart, and following The Golden Rule, treating others with respect, and embracing the Southwest Family. Kelleher wanted everyone to have a Fun-LUVing Attitude: Be a passionate team player, don't take yourself too seriously, and celebrate successes. And, seek to Wow the Customer: Deliver world-class hospitality, create memorable connections, and be famous for friendly service.
Lead with Consistency: Kelleher led Southwest for thirty years and continued to inspire the company as Chairman Emeritus until his death. He was also married for sixty-three years. His personal loyalty and sense of commitment created a climate in which there was never a layoff, furlough, pay cut, or strike.
According to Kelleher, leaders can create vast economic value based on genuine and generous human values. What you hope to achieve in the marketplace must be reflected in what you build in the workplace. In an age of disruption and transformation, what matters most is simplicity and consistency.
Lead Driven by Purpose: Southwest's purpose, vision, and mission are each followed by a special statement to employees, and each of these statements refers to love and/or connection. Their purpose is "to connect people to what's important in their lives." Their vision is "To become the World's Most Loved, Most Flown, and Most Profitable Airline." The mission hopes to succeed "with a sense of warmth, friendliness, individual pride, and Company Spirit."
In a sustaining message to employees, Southwest says, "We are committed to providing our Employees a stable work environment with equal opportunity for learning and personal growth. Creativity and innovation are encouraged for improving the effectiveness of Southwest Airlines. Above all, Employees will be provided the same concern, respect, and caring attitude within the organization that they are expected to share externally with every Southwest Customer."
Kelleher's Lessons and Legacy
Kelleher knew that great companies have great cultures. They have cultures that inspire passionate people to come to work ready to work, engage workers completely, and motivate them with a picture of how their work affects their customers' world. What unites them, makes them feel respected and drives their performance is Emotional Connectedness — the sense of belonging that people feel when they see their work positively impact organizational outcomes. The recognition that their work matters to their managers, colleagues, and the wider world makes all the difference. It motivates performance more than bonuses, benefits, and other perks. Kelleher had that vision. As Bill Murphy, Jr. wrote recently in Inc., "Kelleher was a celebrity CEO in his time, both because of his personality and because of the culture he created at Southwest Airlines. He was also a visionary." Kelleher created a business model that changed the air travel business forever, but he also created a culture that welcomed his "eccentricities." He wore costumes to employee parties, hosted weekly employee cookouts, worked on baggage handling on holidays, and schmoozed with mechanics over coffee and doughnuts. Couched as always in his trademark sense of humor was a leader whose legacy continues today. Due to his able helpsmanship, Southwest is listed by J.D. Power as the top low-cost carrier, is the highest ranked airline among Fortune's 500, and ranks among the top 10 of Fortune's Most Admired Companies — the only airline on that list.
**
Louis Carter, MA is the author of more than ten books on best practices in leadership and management including Change Champion's Field Guide and Best Practices in Talent Management. He was named one of Global Gurus Top 10 Organizational Culture gurus in the world. He is one of the top advisors to C-level executives, helping them and their organizations achieve measurable results. He is the recipient of ELearning! magazine's Trailblazer Award, the HR Tech Conference Top Products Award, and Leadership Excellence magazine's Best in Leadership Development for his work as Chairman and CEO of the Best Practice Institute. He received his MA in Social/Organizational Psychology from Columbia University. His newest book is In Great Company: How to Spark Peak Performance by Creating an Emotionally Connected Workplace. Learn more at www.louiscarter.com.