7 Types Of Stamps You Must Be Aware Of 
Are you starting a new business? Have you thought of important things you need while starting your business?  
One of the essential things that you require while starting a business is stamps. Stamps, also known as company seals, are used by firms to endorse documents like deeds, shares, certificates, contracts, etc. The stamp includes your enterprise name, registration number, date, and mailing address. It is vital in companies; hence it is not something anyone can easily own.  
But did you know there are various forms and types of stamps in the market? The whole market is flooded with them. So, choosing the right one for your company might overwhelm you.  
Therefore, this article will discuss the seven types of stamps and help you choose the best stamp suited to your company's needs.  
Traditional Rubber StampImage Source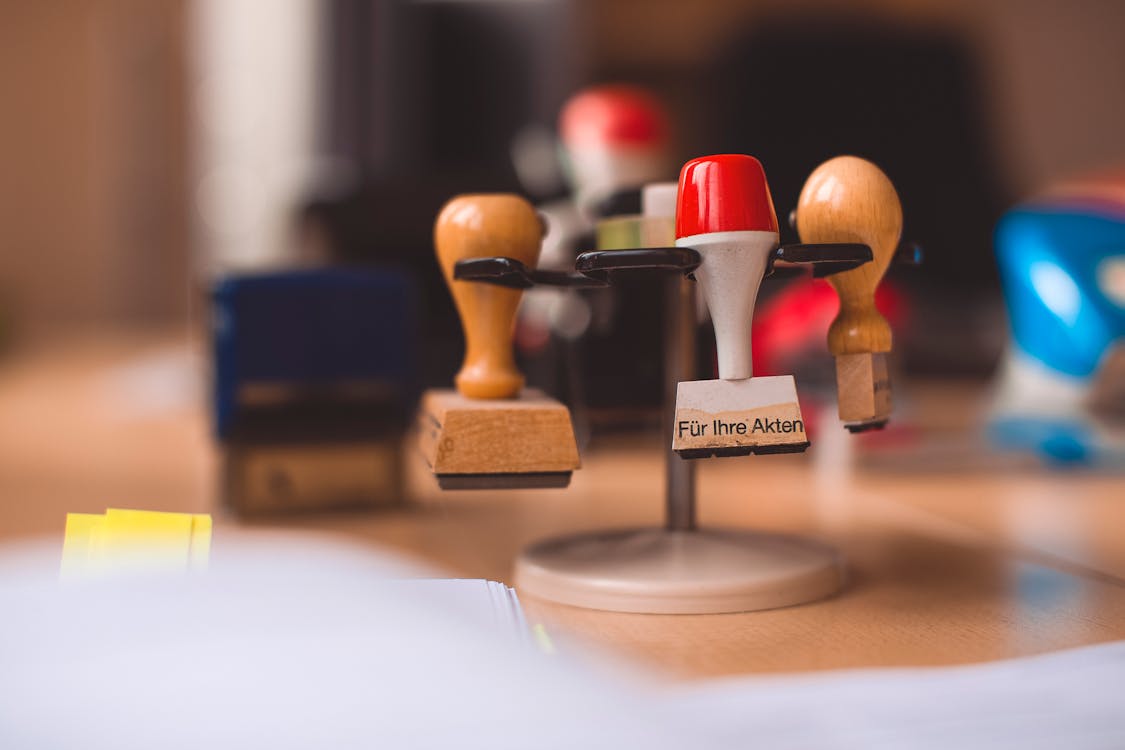 Traditional Rubber Stamp is the most common stamp used today. It is cheaper and can be used for a long time without much care. However, conventional rubber stamps require a stamp pad to produce an impression. It works like stamping on a stamp pad and then stamping on documents. Using this type of stamp can be troublesome as it takes up space on your table, and you always need to bring it along with the ink pad.    
Previously, wood was used to make these kinds of stamps, but now vulcanized rubber is used. While making a rubber stamp, a sheet of vulcanized rubber is processed into symbols or shapes required. Then the same sheet is mounted on the base of a wood, plastic, or brick block. The ink must be applied to the rubber to leave a mark on any documents. The best part of this stamp is you can change the ink color randomly depending on the ink pad you use or the document to be stamped.  
If you have difficulty getting an economical and quality traditional stamp, you can consider kiasuprint.com. They offer cheap rubber stamps ranging from $6 to $14 only.  
Self-Inking Stamp
Self-inking stamps come with replaceable ink pads and allow stamps to reink automatically. It is a water-based ink stamp with a built-in ink pad, which is easy to replace. This stamp is ideal for rapid stamping and can produce thousands of impressions. If the ink pad begins to dry, sprinkle a little water on the pad. This allows the impressions to be good as new.  
Self-inking stamps are pretty affordable, re-fillable, and come in various colors. However, these stamps create noise when stamping, and their impression clarity is not as good as a pre-inked stamp. Also, as this stamp comes with water-based ink, it can be washed off easily with water. Despite these cons, self-inking stamps are simple, practical, hygienic, and fast.  
Pre-Inked Rubber Stamp
This rubber stamp comes with pre-filled oil-based ink. It produces a clear impression on every stamp. Ink in the pre-inked rubber stamp is stored inside the reservoir, and your company initials or symbols are flashed onto a die plate inside the stamp. The die plate allows ink to flow through when the stamp is pressed against the documents. You can refill the ink onto the reservoir but remember it should have the same color and be oil-based. After refilling, it takes a few hours for the subsequent use. The most significant advantage of this stamp is that you don't need an ink pad, as the ink is already stored in the stamp.  
Numbering Stamps
A numbering stamp is designed to stamp numbers and can be used for a series of numbering. The stamp has a rolling system used to change the numbers during stamping. Instead of numbering, the alphabet can also be used in the numbering stamp, depending on your requirement.  
Like traditional stamps, using a number stamp, you must have an ink pad to press on and stamp the impression on the documents. Numbering stamps are used mainly in warehouses and factories. 
Clear Stamps
Clear stamps are made from transparent photopolymVaporbrothers.coer. To stamp impressions using clear stamps, you need an ink pad as they are not self–inking. Clear stamps are fantastic for various reasons, including cost, size, weight, and stamping visibility.  
However, it is vital to know that clear stamps must be stored in cool places as they are made of transparent plastic. Due to the plastic material, they are susceptible to distorting under extreme heat. Apart from keeping clear stamps in a cool place, you must be careful of a few more things. Clear stamp stains easily and hence, can alter the color or opacity of the impression. So, make sure to clean them regularly after use.  
Usually, clear stamps are required in offices that need to be very sure of stamp placement without even a slight difference.  
Initial Stamps and Signature Stamps
Initial stamps are ingrained with an Individual's initials, while signature stamps have the full signature of the authority figure. These stamps are used for quick and easy authorization of documents. Initial and signature stamps are available in numerous styles, including self-inking, pre-inked, or wood handles, and are easily customizable with required signatures or initials.  
There are many reasons to use an initial and signature stamp. Both of them are helpful for personal as well as professional use that can simplify specific tasks, including  
Simplifies repeated and frequent signing

 

Allows the disabled person to sign quickly

 

Removes ambiguity due to consistent appearance. 

 
Though signature stamps are a helpful tool, there is some concern as to whether they are considered a legal method for authorization or not. So, suppose you want to use them. In that case, you must intentionally utilize these and validate yourself or the authorized representative you appoint, as a signature stamp can be a legal form of signing.  
Wax Stamps
A wax stamp is a stamp that is used to create an impression of wax. It comes in many colors, materials, shapes, and sizes, depending on the usage. A wax stamp is an excellent way to experience the ancient art of wax sealing for yourself. It is recommended for a person who enjoys creating wax seals by hand.  
Conclusion: 
Generally, each type of stamp has its distinctive feature and usefulness to its user. Depending on your requirement and with some knowledge, you can select the stamp best suited to your needs. You can consider the guide mentioned above to help you make an informed decision.